International Conference on Paediatrics
November 12 - 14, 2021 8:30am - 12pm EST | 2:30pm - 6pm CET | 6pm - 9:30pm IST on Zoom (recordings available and translation in German and Japanese)
"Our children are the rock on which our future will be built, our greatest asset as a nation" –Nelson Mandela
It is not an overstatement to say that our children are facing a serious crisis. Since the pandemic hit, there is no escape from a world filled with scary projections and negative feelings. Our children now live in a sinister landscape of restricted interactions, masks, and the looming threat of death, and parents' reassurances do not hold the same weight that they once did.
The good news is that homeopathy can help children tremendously at any time in their lives, even during this daunting pandemic era. Homeopaths assess children holistically, noting all pathological conditions—from dandruff to eczema, arthritis to epilepsy, and restlessness to suicidal thoughts. An appropriate remedy that fits the whole picture of dis-ease can cause rays of light to break through the dark clouds and discomforts that exist in a child's world.
Our renowned homeopathic presenters have extensive experience with pediatric cases of all kinds. They will share how to achieve success in chasing away today's storm clouds as well as how to maintain optimal health for our children.
Eight Amazing Speakers:
Friday, Nov 12 Jürgen Weiland | Heiner Frei | Annette Sneevliet
Saturday, Nov 13 Resie Moonen | Paresh Vasani | Anne Schadde
Sunday, Nov 14 Dinesh Chauhan | Rajan Sankaran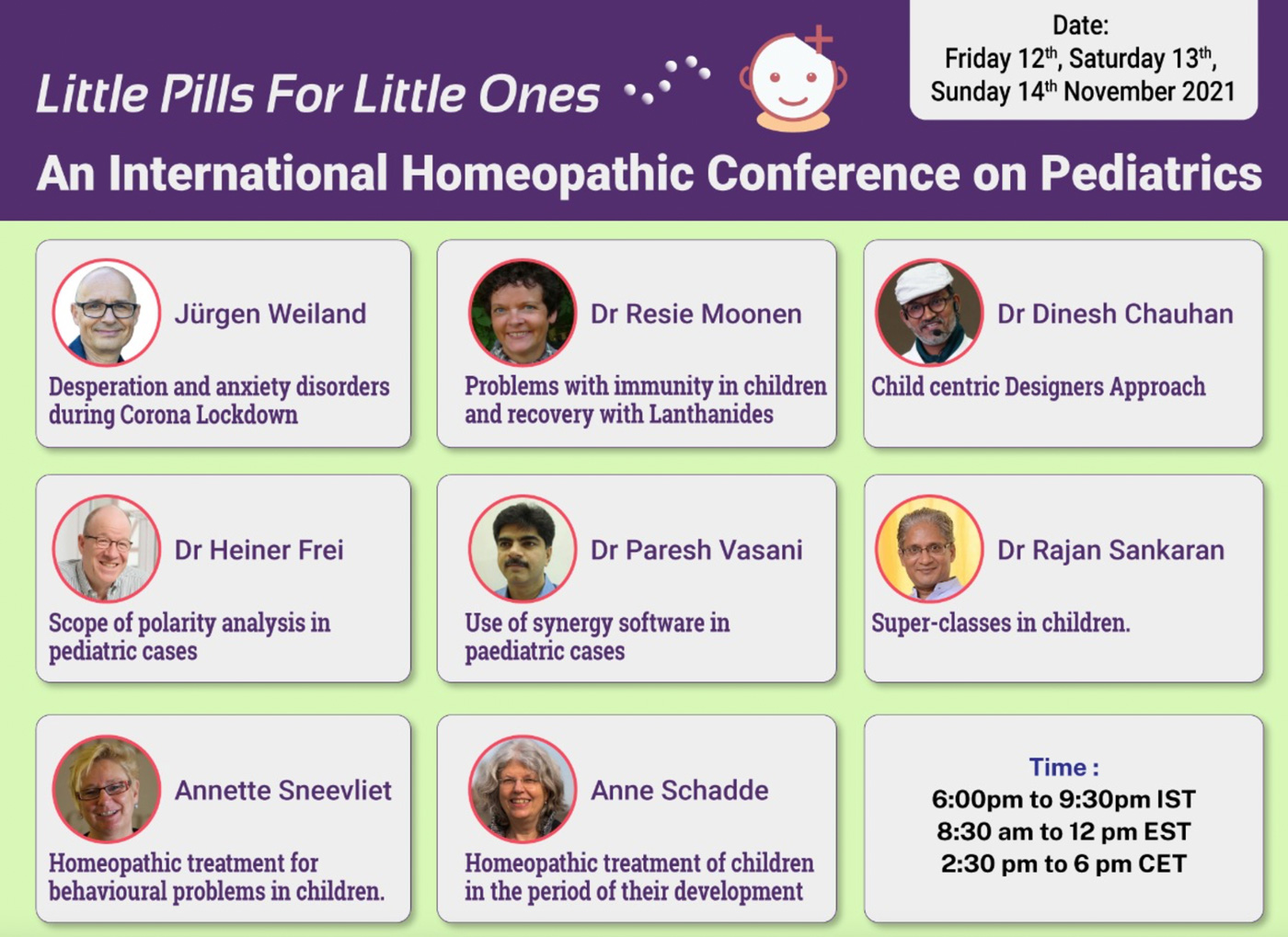 Details: Schedule, Speakers, Topics
Eine deutsche Übersetzung ist verfügbar
Laden Sie hier alle Details und den Zeitplan
Practitioners of all levels of experience and methodology are welcome to register! Our celebrated, renowned presenters will showcase a variety of well-proven methods.
Fees
English: Early bird offer until 31 October 2021: $125 | €100 After 31 October 2021: $175 | €150
With translation in German or Japanese: Early bird offer until 31 October 2021: $150 | €125 After 31 October 2021: $200 | €175
Blog title photo (girl reaches out for a ballon) by Gabriel Baranski on Unsplash